Did you know that you don't just have one brain but three?
Let me elaborate… neuroscience has now proven that we have neural networks in our hearts as well as our guts and not just our head brains. What is most exciting about this is that whilst perhaps, by definition, our heart and gut brains don't have a consciousness, like the head brain, they can still "think" for themselves as well as hold onto memories.
If you think about it, where do you feel it most when you have a break up? In the heart right? When you just know that something is right or wrong, you feel it in your gut and you might find yourself saying 'my gut's telling me it's the right thing to do'. Well that's your other two brains at work.
There's an exciting new set-of-techniques which have emerged that can help you align your 3 brains; head, heart and gut. In doing so it can help you in making much clearer decisions….and that can lead to a more aligned life as a whole.
mBraining: What's this?
If you want to learn more, here is a fantastic book which not only explains the theory, but also gives a whole load of incredibly powerful strategies to align your three brains: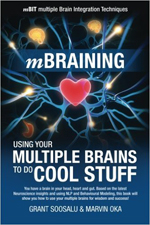 MBraining: Using your Multiple Brains to do Cool Stuff
Here is the mBraining website. Well done Grant and Marvin, I'm a big fan. Your work is fantastic!
Open your Eyes
I also wanted to open your eyes to another point with this blog and show you how to engage your audience. So rather than just filming a "talking head" with no visual support, you'll connect deeper with your audience by using a visual metaphor, like in this case where classic board game Hasbro Classic Operation Game
 was used. After watching this video viewers have an item which will trigger memory, a visual metaphor, rather than forgetting a person who simply talked at them.
Perhaps the next time you have a corporate message to get across I hope you'll stay away from telling a story all prescriptive and corporately and rather be inspired to use a visual metaphor.
Best, 
Nik
For more information, please get in touch on 01737 243 030