On average, we send and receive 121 emails per day at work! That's a whole load of emails, and if you have employees in a customer-facing role, they'll likely spend even more time in their emails trying to engage prospects and talking to clients. Whether we like it or not, email is a prime form of communication in our work bubbles.
But, email can be so impersonal. Yes, you can use affable language and ask the human on the other end how their week is going, but does this really stand out from the 120 other emails that land in their inbox that day? Probably not…
If you're reading this blog, you might already be aware that video is the most powerful form of content when it comes to building strong and personal relationships, but creating a video for every one of your emails isn't the least bit scalable (not yet, anyway).
This is where video email signatures come into play. Customer-facing employees should start thinking about a video email signature in the same way that they view tea and coffee at work—it's not a luxury, but a necessity to get their job done effectively.
But I hear you ask; what are video email signatures?
I have a video thumbnail picture in my email signature, which is linked to a landing page, where the following video lives:
As you can see, the video is short, interesting and to the point. It shows who I am as a person, it has conversation starters in it. It's a few snippets of who Nik is outside of work. Do you agree that makes for a human connection over an above a name, company logo and a job title?
Why you need one
Your prospects and clients are not likely to feel a real human connection to you through a few words on an email. If they're able to see who you are, your face, your movements and learn what makes you happy, what interests you, they're much more likely to trust you.
Whether you're trying to close an important contract or just checking in on a happy client, these videos will ensure that each human you communicate with establishes a connection with you and your brand. And once you've made the video, all you have to do is add it to your signature.
Still don't think you need one? Read on…
Still don't believe me? Well, the stats don't lie!
At the start of November we started using video email signatures across all our teams and using our partner Wistia's analytics tool, we have some powerful stats to convince you. Take a look at these stats linked to Claire's personal email signature…
With an 92% average engagement rate, 80% play rate, it's pretty incredible to see how impactful this video is, and what percentage have actually watched the entire video.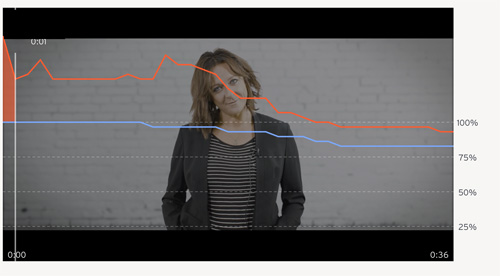 Not only that, but the red line in the above engagement graph shows that there's a significant amount of viewers rewatching sections of the video. Apparently, the pilates part is well-received (note the spike in rewatches).
Here's another great example from my colleague Ed on the production team, who's also a big fan of using his video email signature in every conversation he has with clients over email.
As you can see, Ed's video is also knocking it out of the park in terms of engagement. You can only imagine how this helps Ed connect with clients he's working with. It's much easier to put trust into a product when there's an actual human being attached to that product, who's able to ensure your needs are being met
Allowing your viewers to see where you eat pizza or even just your favorite place to work in the office will instantly give them a glimpse into your life, which can help you form a stronger connection. And you don't have to travel far! As you can see below, my colleague Claire just popped down into the next room to show us her beautiful (albeit dusty) bonsai. Here's her video…
The importance of a broad call to action
Having some form of CTA at the end is always useful. Since this CTA will be in every one of your emails, make sure that it's not catered toward a specific person or audience, but rather something that could apply to any client or prospect you communicate with. Providing some way for the person to contact you; an email, phone number, or calendar link should do the trick.
Start with New Employee Inductions
As more people have joined Mindset, we've made sure that each employee has their own video email signature, but especially the customer facing ones. It's part of our employee induction programme; a few weeks after starting, employees get involved in creating their own videos and we are really having fun with them.
It's time for all of us to retire that tired 'wordy' signature and start showing off the human-beings inside our companies. You can build trust with your clients and ultimately grow your business faster with video email signatures.
Best,
Nik
Please get in contact if you'd like to talk about getting video signatures set up for your team. There's a limited time offer at the moment if you book 10 videos you get two free. Simply give us a call +44 1737 243 030